During the graduation ceremony of cohort 15, the best thesis award for their cohort was also awarded. This year, Justine Gauchon was the receiver of this annual award. She wrote a thesis on the Critical Success Factors for Change Management in the public sector. We have asked her a few questions about her thesis, and her experience during her two years as an IMMIT student.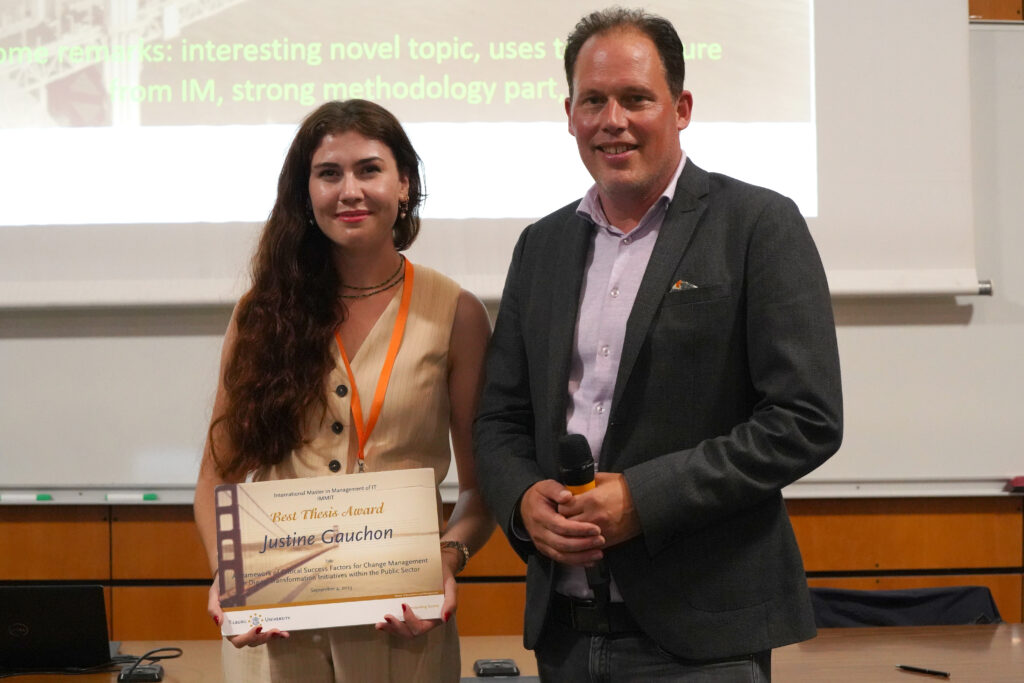 Can you tell us about your thesis and its results?
This thesis was conceived during my internship, inspired by a corporate project undertaken with the public sector. The organizational transition faced significant challenges, reflecting a broader pattern of difficulties, with approximately 70% of public sector projects encountering obstacles primarily due to resistance to change. The main objective of this thesis was to develop a practical framework to assist project managers and consultants in effectively managing change and ensuring project success.
The framework's development process involved a comprehensive review of existing literature and was further enhanced through seven interviews and three case studies. The resultant framework encompasses five Critical Success Factors (CSFs), which are as follows:
1. Organizational Effectiveness: This factor addresses the organizational aspects crucial for the successful implementation of change.
2. Change Commitment: This factor focuses on employees' perspectives and their willingness to embrace and support change initiatives.
3. Project Management: Addressing the overall project management aspects, this CSF plays a pivotal role in overseeing digital transformation (DT) initiatives and driving their success.
4. IT/Technology: Highlighting the supportive role of technology in facilitating the adoption of appropriate tools and methodologies during the change process.
5. External Environment: Acknowledging the contextual factors that influence the execution of DT initiatives within a broader external context.
These five CSFs are categorized across three distinct levels: employee-level, organizational-level, and project-level. The last two CSFs, IT/Technology and External Environment, are regarded as supportive and contextual factors, respectively. Each of these CSFs encompasses a range of sub-factors that contribute to their overall effectiveness.
It is worth noting that practitioners involved in this research generally agreed on the importance of all identified sub-factors. However, three sub-factors emerged as particularly significant, including the pivotal role of Ambassadors (employees who lead change efforts and persuade their peers of the benefits of change), the Use of technology as a tool to align methodologies within DT projects and change implementations, and the importance of establishing Proximity among employees, the organization, and external stakeholders.
What do you do now?
As of now, I am working as an IT strategy consultant in the business consulting branch of a software firm, Hardis Group.
What memory do you treasure the most?
It is difficult to distill the IMMIT adventure into a single memory as there were numerous experiences over the two years. However, if I had to choose, it would be the trip to Riga with members of the IMMIT cohort and friends we made in Finland. We stayed there for a few days and had the most fun while exploring the city.